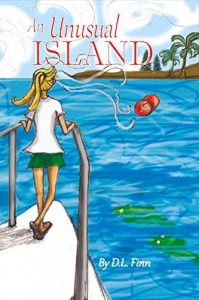 It feels like Janine's birthday couldn't get better: her parents have won a vacation to an island and the whole family gets to go have fun - which, unfortunately, includes a sightseeing boat ride (Janine isn't fond of boats: "Being on the boat reminded me of a bad kids' roller coaster ride—bumpy and boring."). The experience does nothing to improve her opinion when a storm arises and they are shipwrecked on an uncharted island, there to face the mystery of their lives.
Only eleven pages into the story, D.L. Finn paints the background, interests, and concerns of her protagonists and places them in a position of confronting powerful changes: off and running with a quick start, teen readers will find themselves plunged into adventure following a "stereotypical smart girl" who finds her comfortable world challenged in more ways than one.
The mystery of the island's hidden (but beneficial) presence is well done and the seemingly-calm acceptance of the protagonist is deftly explained just at a point where it starts to feel too pat and unreal: "Mom wasn't acting like Mom, who would have said something right away, and I wasn't acting like myself, either. It was like I had been in a trance while we were walking. Why weren't either one of us freaked out?").
In a rollicking journey that includes caves, possible pirate treasure, and references to baseball, bears, possible school pranks, and more, An Unusual Island is replete with twists and turns that skirts the supernatural and creates the evocative saga of an island replete with danger.
With an adventure far beyond that of a shipwreck or treasure saga, teens will delight in a winding story line that requires only an interest in adventure and fantasy to prove an engrossing, compelling read, recommended for ages 9-16.